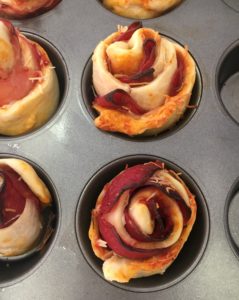 Love is in the air!!
This week was Valentine's Day!!
Valentine's Day is a day of love and romance and a fantastic opportunity to cook romantic delights in rose or heart shapes.
This is a particular favourite of mine as it is quick to make as an appetiser or snack, and it's very easy for kids to make too. Not to mention very inexpensive
Ingredients:
1 sachet of active dry yeast (7 grams)
1 teaspoon of sugar
1½ cups of warm water
3-4 cups of plain flour
2 tablespoons of olive oil
½ teaspoon salt, ½ teaspoon of garlic powder, 1 teaspoon of Italian herbs
Tomato sauce, cheese, salami
1. Turn on the oven to 180 degrees.
2. Put yeast, sugar and water in a bowl and leave until it bubbles
3. Add salt and oil and mix
4. Add flour, cup by cup to form a smooth dough 
5. Knead for 5 minutes or until smooth and elastic, it should be soft but not sticky 
6. Put a little oil in a clean bowl and put dough into the same bowl
7. Leave for 20 minutes or until it has doubled in size (optional)
8. Put flour on benchtop and rolling pin and roll out evenly to 3mm thick
9. Cut into strips of 3-4cm wide, approx. 20cm
10. Top with pizza sauce and cheese.
11. Now put the salami on top, overlapping a little bit and protruding past one edge of the dough strip (this will create the petals at the top)
12. Put into a muffin tin/mould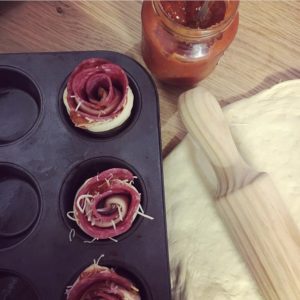 13. Bake in the oven for 15-20 mins or until a bit golden brown  
14. Enjoy with your family and friends. 
Last year we made this recipe in our online workshop and the kids and parents alike couldn't get enough of these delicious pizza roses
This is a must-try recipe! You won't regret it!